Date
Tuesday, April 26, 2022 | 08:30 a.m. PT
Location
Zoom
ShapingEDU Spotlight Mini-Summit: Emerging Credentials x Future Employment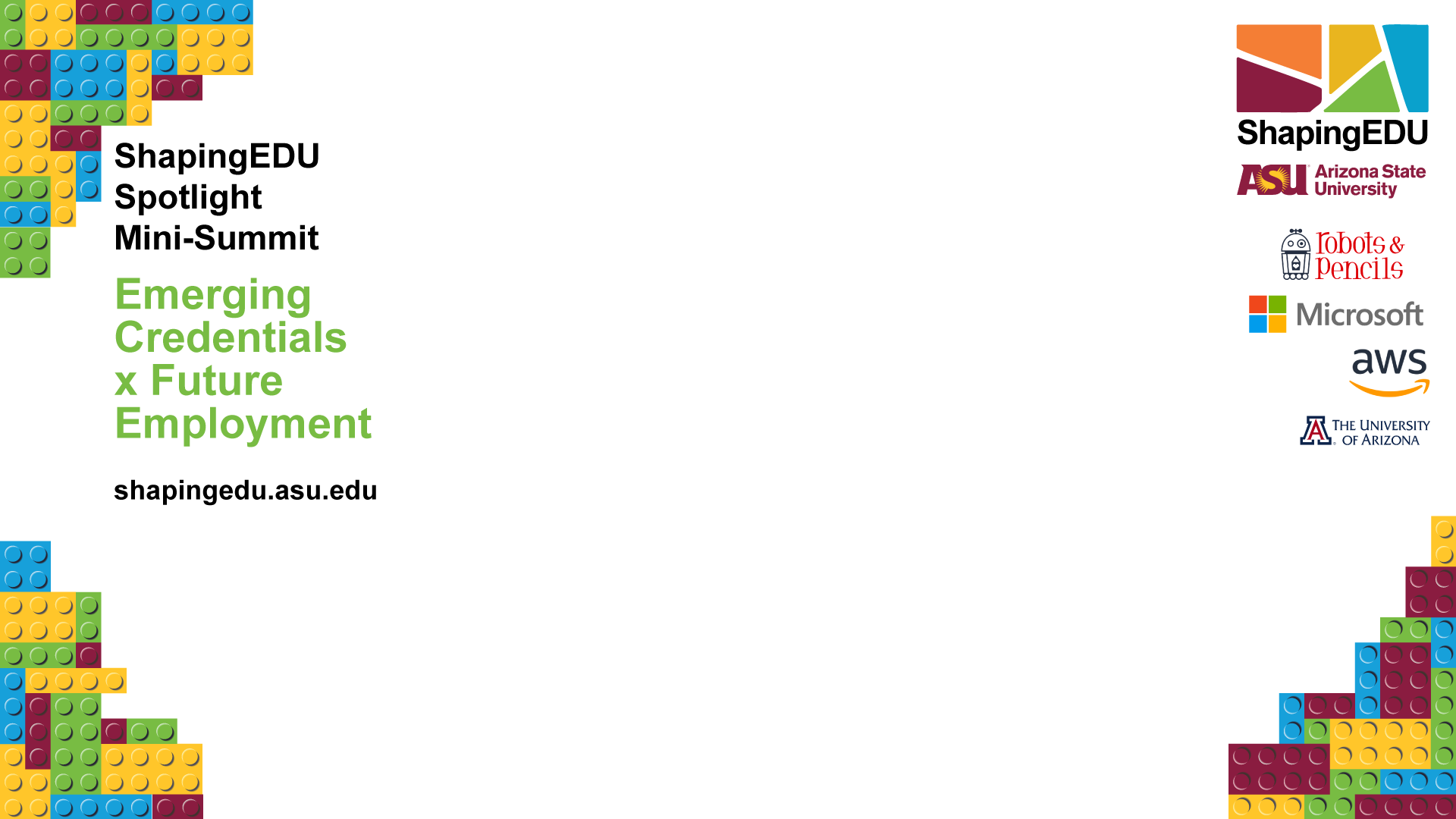 Download Static Zoom Background
Download Animated Zoom Background
Join us at 8:30 a.m. PT on Tuesday, April 26, 2022 as we discuss the emerging credentials landscape and its direct - and indirect - effects on employment of the future. 
Within the dynamic landscape of "choose your own adventure" learning paths, a plethora of opportunities exist for learners to assemble a skills-based resume, piece by piece. As learners assess the options for documenting their skills and preparing for their dream job with their dream employer, navigating these options can leave them with more questions than answers. What's the difference between the "building blocks": credentials, badges, certificates and microdegrees? What do they prove, and what don't they address? Are all credentials valued equally by all employers? With private companies, industry groups, and colleges themselves offering new types of credentials, who decides on the standards? Limited resources exist for learners, educators and employers to assist in the assessment of current and future post-secondary education and career path options. 
The financial component of these choices may be weighing heavily on learners' minds. The average public university student borrows $30,030 to attain a bachelor's degree, with more than 3.2 million graduates owing over $100,000; the average debt-to-income ratio for a new graduate is 54.6%. As learners contemplate looming future education debt, what are the implications of trailblazing companies like Google, Apple, Tesla, Amazon, Starbucks and IBM no longer requiring college degrees for some of their top jobs? Are employer-developed, stackable skills-based training programs the optimal solution for getting your foot in the door? What about long-term career development?
Hosted by ShapingEDU's Emerging Credentials Standards Action Team, the Mini-Summit will convene a global community of education changemakers to explore:
Is stacked credentialing an equitable solution for career-focused learners?

What is higher education's role in readying learners for the new world of work?
Hosts
• Samantha Becker, Co-founder, ASU ShapingEDU
• Stephanie Pierotti, ASU ShapingEDU
• Dr. Allison Hall, Director of Learning Experience Design at ASU
• David Thomas, Executive Director for Online Programming at University of Denver
8:30 a.m. PT | Welcome!
8:45 a.m. PT | Mapping The Landscape
The evolution of emerging credentials 
• Sheryl Grant, Director, Digital Credentialing Strategies, Badgr
The future of emerging credentials 
• Naomi Boyer, Executive Director Digital Transformation, Education Design Lab
• Rajinder Gill, CEO & Co-Founder of Essential Skills Program
• Katie Sievers, Senior Manager of Professional Services, Credly
• Noah Geisel, Micro-credential Program Manager, University of Colorado
Serious Play Studio Break
10:00 a.m. PT | Fireside Chats
• Student Insights (hosted by Samantha Becker)
+ Laura Telander Graf - Senior Director, Public Relations and Thought Leadership at ECMC Group
+ Helen McDonald, Student at University of Puget Sound
+ Faith Dalzell, Learning Enterprise Fellow at Arizona State University
• Educator Insights (hosted by Kelly McNeil, Curriculum Manager, Edson Entrepreneurship + Innovation Institute at ASU)
+ Lynn Szymanski, Director Workforce Development at Great Bay Community College
• Employer Insights (hosted by Lara Looney, Chair, Curricular and Academic Regulations at University of Portland & Stephanie Pierotti)
+ Tracy Zimmerman, President & CEO at Robots and Pencils
10:55 a.m. PT | Take Five!
(five minute presentations followed by attendee-driven Q&A discussions)
Innovators
• Quentin Story McAndrew, PhD , Academic Strategist, Coursera
• Lucas Czarnecki, Creative Director at Digit.ink
• Timothy C. Summers, Ph.D., Executive Director of Product Development - Digital Trust, ASU
• Kate Giovacchini, Managing Director of the Trusted Learner Network, ASU
11:30 a.m. PT | Taking an Ecosystem Perspective on Emerging Credentials
Q&A with Dr. Phillip Long (hosted by Sheryl Grant of Badgr)
Dr. Long focuses on emerging technologies, decentralized information architectures, the cognitive interactions with them, and virtual and physical spaces wherein they occur. He wears many hats: he is the founder of RHz Consulting L.L.C., an advisor to the Orchard Project at ASU EdPlus, a Faculty Affiliate at ASU, a Senior Scholar at Georgetown University's Center for New Designs in Learning and Scholarship, the Facilitator of the Learning and Employment Records Network (LERN) which is a part of the T3 Innovation Network of the US Chamber of Commerce Foundation, a consultant on LifeGraphs to Marysville University and LifeTrek, and an Open Source Fellow at Concentric Sky. His current work focuses on blockchains and LER/Verifiable Credentials in the context of documenting skills, competencies & credentials. 
11:50 a.m. PT | Take Five!
(five minute presentations followed by attendee-driven Q&A discussions)
Research & Advocacy
• Michael Morris, Ph.D. - VP, Strada Education Network
+ Dr. Rick West, Assistant Professor, Instructional Psychology & Technology, Brigham Young University 
Serious Play Studio Break
12:30 p.m. PT | Evolving Higher Education's employer partnerships to address sector-specific hiring challenges
Q&A with Laurie Burruss, Education Innovation Advisor at LinkedIn Learning (Hosted by Stephanie Pierotti)
Laurie is currently the Education Innovation Advisor at LinkedIn Learning as well as an Adjunct Professor at USC Roski School of Art & Design Graduate Design Program and Otis College of Art and Design in Digital Media; in addition she is professor emeritus at Pasadena City College. Since 2009, she has consulted in education innovation for over 250 companies as well as universities. She advocates for academic initiatives, supports excellence in teaching and learning, and provides integration and implementation for systems-wide online teaching and learning solutions. As a thought leader, public speaker and writer, Laurie evangelizes all things education and learning . Before consulting, she served for 22 years as a professor in Interaction Design and as the director of the Pasadena City College Digital Media, serving the state of California as a regional resource for collaboration between education, industry, and the community. Her passion is digital storytelling.
1:10 p.m. PT | Takeaways & Next Steps