Date
Welcome Reception February 6 | Event February 7-8, 2024
Location
ASU California Center (Downtown Los Angeles)
Playposium 2024
Keynote Speaker: Dr. Stuart Brown
"The opposite of play is not work — it is depression." 
 
Dr. Brown founded the National Institute for Play to study the scientific knowledge on play behavior and understand its implications. Thirty years later, there have been many discoveries indicating that play is life-giving: Adults who play experience less stress and more optimism and well-being.
Learn more about Dr. Brown and The National Institute for Play
February 6th: Welcome Reception
February 7th: Keynote - Dr. Stuart Brown + full day of workshops
February 8th: Half day of workshops + optional field trip
Interested in sponsoring, speaking or collaborating? Please contact stephanie.pierotti@asu.edu
---
How might we increase upper secondary and higher education learner and educator recruitment, retention, wellness and success by incorporating play, games, fun and joy into teaching and learning?

Playposium 2024 is an event focused on playful teaching, course design and curriculum design in the higher education classroom.  We invite all playful (and play-curious) professors, department chairs, deans, instructional design staff and teaching and learning professionals to join us. If you're passionate about improving student learning and success, join us to discover why play is the new student success superpower.
Playposium workshops will cover:
What is play? 
Discovering your play personality
The value of play in adult learning
What holds us back from realizing the benefits of play in learning?
How can play transform learning and reignite your passion for teaching ?
How to become a more playful educator
How to design more playful courses and curriculum
Learn, reflect and act on your role as a playful educator
How to revolutionize higher education
And did we mention you'll have fun?
Why Playful Pedagogy Is Urgently Needed
Higher Education x Mental Health (Chardon State College, ActiveMinds, American Psychological Association, CollegeStats.org, Higher Ed Today)
34.2% of students with a mental health condition said their college did not know about their crisis.
64% of students are no longer pursuing their college degree due to mental health issues.
21.6% of college students said depression impacted their studies.
95% of college counselors report that mental health concern is growing on their campus.
41% of college counselors reported anxiety disorders as the most frequent disorder they treat
50% of college students reported their mental health to be below average or poor.
The Impact of Play and Joy
"Play is a survival drive that is necessary for adaptation, flexibility and social learning. Play helps us belong in the community, develop the ability to suppress unwanted urges, and regulate our emotions...Most people tend to think that play is confined primarily to childhood, and my sense of the paleo-anthropological design of being human is that we are neotenous creatures. We are designed to be juveniles until we die and that is part of our primate design as Homo sapiens. When we honor that design, we tend to be less violent, more communal and healthier...your level of agitation drops when you get playful, which tends to increase perseverance and mastery. Play has a real payoff." (Dr. Stuart Brown, National Institute for Play)
"Infusing joy, with purpose, can decrease student and teacher stress, foster community, and help students feel a greater sense of belonging. When students have a higher sense of belonging, there is less chance of absenteeism, school drop-out, substance abuse, anxiety and depression. (Jennifer Katz, Ensouling our Schools)
Higher Education x Playful Pedagogy (Lisa Forbes, CU Denver, 2021)
Higher education students are more engaged and motivated when they are taught using playful pedagogy rather than the traditional lecture-based method.
Play increases positive emotions and connections with other students and the professor.
Playful pedagogy is more aligned with the humanistic missions and values of universities.
Using Playful Learning to Promote Social Connection
A 2023 advisory from the U.S. surgeon general offers recommendations for individuals and the education system to promote social connection and improve community health and well-being. 
Actionable items to promote social connection among students in their roles as educators and as individuals
Educators x Playful Pedagogy
51,000 educators left the profession in June 2023. (Statistica)
More than half of teachers – regardless of age or years in the classroom – say they're thinking about leaving the profession. (National Education Association, 2023)
35% of U.S. college or university teachers said they very often or always feel burned out at work. (Gallup, 2022) 
"I can see how becoming a playful educator has been a way for me to counter my own tendency towards anxiety, depression and underlying low self-esteem...For me, taking a playful approach is not just about considering the mental health of students: being a playful teacher makes me feel calmer, happier and more relaxed too...Being playful also supports us as teachers to exercise self-compassion, to be present 'in the moment' and to explore our pedagogic identity." 
Julia Reeve, author of Compassionate Play: why playful teaching is a prescription for good mental health (for you and your students)
"I discovered that I was the keeper of my own medicine, a remedy that could counteract my fear of failing, my avoidance of risk and my highly cultivated, and often debilitating, goal-oriented behaviour. What was this personal discovery? It was play." 
Maarten Koeners, Innoplay Studio
Lisa Forbes, PhD, LPC, RPT | Co-Founder of Professors at Play
Assistant Clinical Professor, Counseling Program at the University of Colorado Denver
Lisa is a Licensed Professional Counselor (LPC) and a Registered Play Therapist (RPT). She has clinical experience working with abused children and adolescents, women and children at a domestic violence shelter, as well as adults, adolescents, and geriatric populations in inpatient psychiatric hospitals. Currently, Lisa is a full-time faculty member at CU Denver teaching mental health counseling and she maintains a small clinical practice doing play therapy with children 3 to 9-years-old. 
David Thomas, PhD | Co-Founder of Professors at Play
Executive Director for Online Programing at University of Denver
David Thomas is the professor of fun. What makes something or some place fun? How do we describe and understand fun? How can fun transform our classrooms and workplaces? This is what David does for, well, you know, fun. David has 25 years of experience advancing quality online courses, programs and degrees in line with organizational values and vision as well as enterprise data and business services. David sees technology as a long lever for meeting the evolving needs in higher education and the long-term success of the educational mission. 
Stephanie LaBorde Pierotti | Director of ShapingEDU at Arizona State University
Stephanie leads a global community of 4,000 education changemakers, including educators and students, plus education futurists, researchers, consultants, edtech developers, worldwide universities and education nonprofits. As part of UNESCO's LearningPlanet Alliance, the ShapingEDU Community works collaboratively on projects to develop free resources aimed at helping lifelong learners thrive in the digital age. ShapingEDU also creates futures-focused in-person and online events that foster community "solutioneering".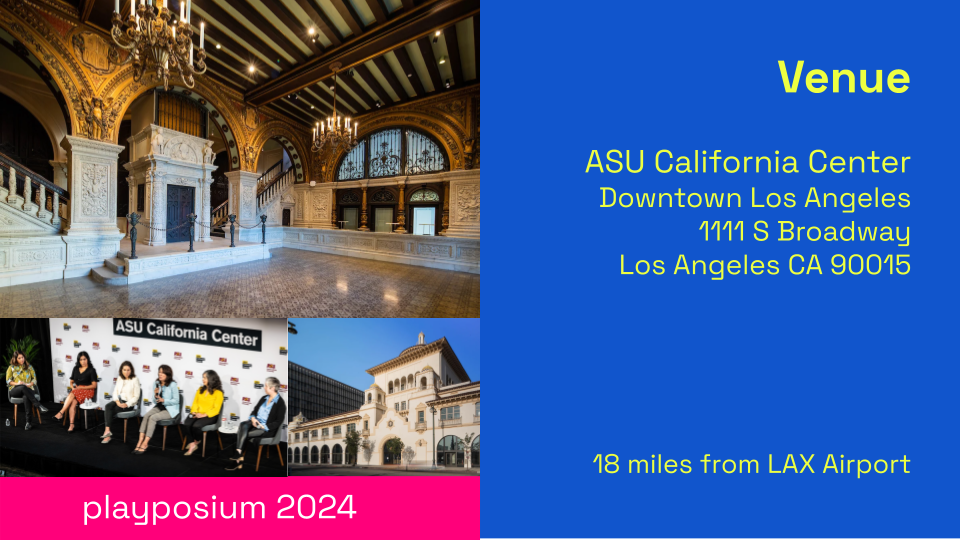 Ticket Price: $199.00
Venue: ASU California Center is located at 1111 S Broadway in downtown Los Angeles, California. 
Hotels: The following are a selection of hotels near the California Center which offer
an ASU rate. Reservations should be made as far in advance as possible. Rates are always in flux
due to the city's busy convention and tourism industries.
Hotel Indigo LA Downtown
899 Francisco Street, Los Angeles, CA 90017
(877) 846-3446
Book at preferred ASU rate
• 50% off daily parking
• Complimentary Wi-Fi
• 15% off all Food/Beverage
• $10.00 upgrade to a premium room
The Hoxton, Downtown LA
1060 S. Broadway, Los Angeles, CA 90015
Book at preferred ASU rate
• Destination fee is waived
• Complimentary Wi-Fi
Downtown L.A. Proper Hotel
1100 S. Broadway, Los Angeles, CA 90015
Book at preferred ASU rate
• Amenity fee is waived
• Complimentary Wi-Fi