Date
June 21 - 23, 2022 | 8:00 a.m. - 1:00 p.m. PT each day
Location
Zoom
ShapingEDU Global Virtual Summer Camp
Two words: SUMMER CAMP. (mic drop)
At ASU ShapingEDU's Global Virtual Summer Camp, changemakers from around the world convened for an experimental fusion of hands-on learning, storytelling, tech hacks and the good kind of shenanigans! 
We stargazed into the EdTech universe, and learn tips & tricks from both the ShapingEDU Community and the developers of new EdTech tools.
We heard from ShapingEDU Space Explorers (Action Team leaders) about the projects they've been working on since February's Pente Pitch Challenge.
We designed a futuristic technology-fueled educational system for Mars in a hands-on team workshop
Read the event recap | View graphic facilitation summaries from the event | Watch our GVSC playlist on YouTube
Created in Partnership with: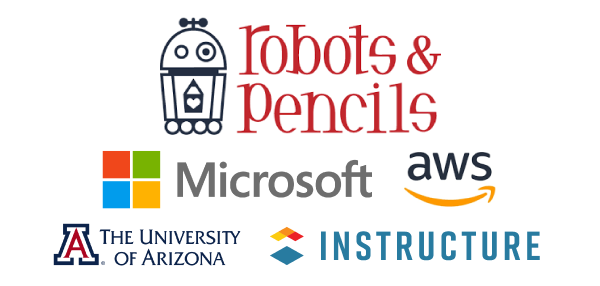 ---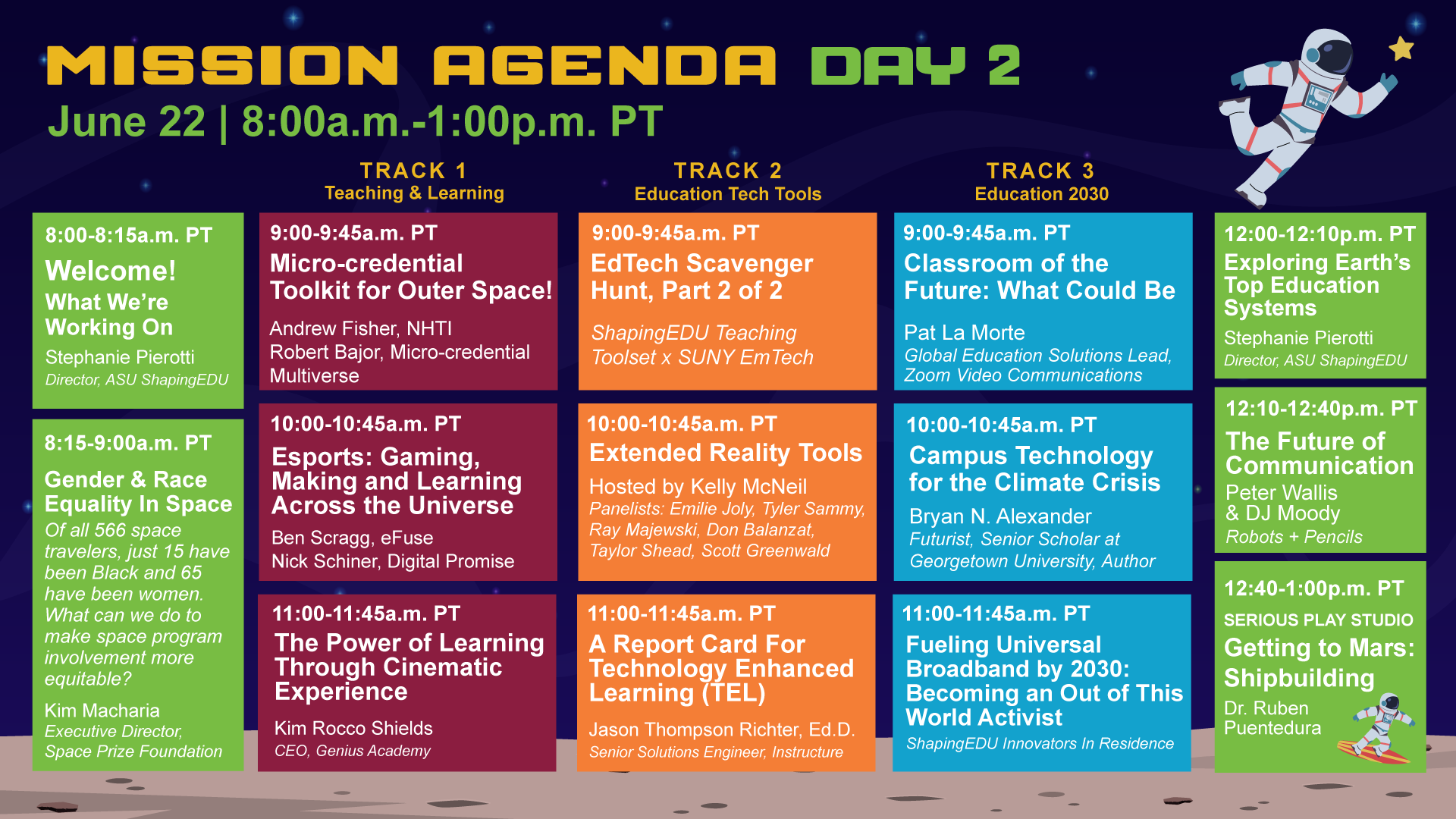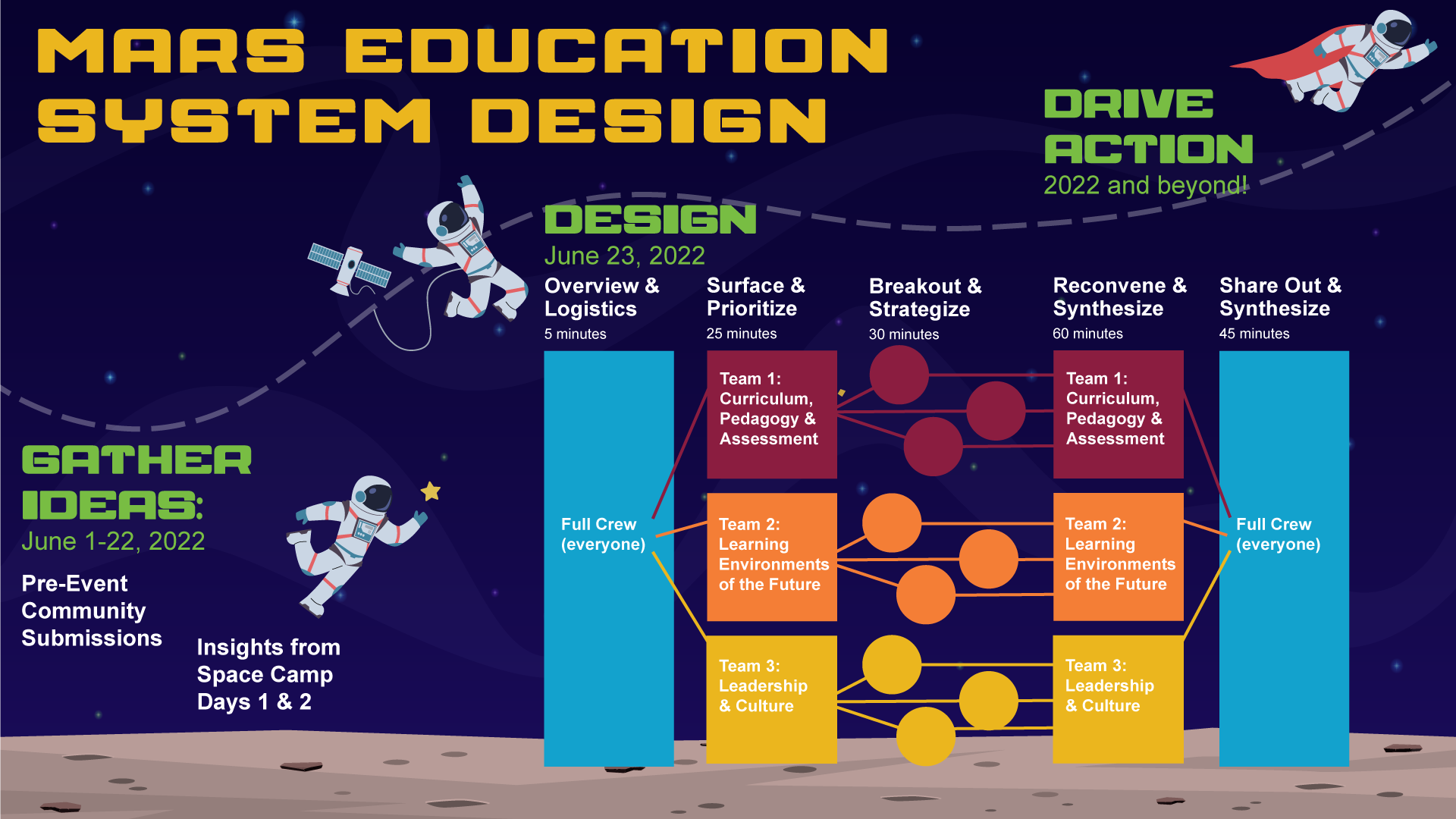 About Our Summer Camp itinerary
Our mission at GVSC this summer included three half-days long and gave attendees many opportunities to dream, do and drive with a strong Community of educators, technologists and lifelong learners. 
 
During the first two days of this event, we explored new technology and what's on the horizon for education. We also observed what's working (and what's not) from education systems around the globe. 

Changemakers attended workshops in the following three tracks:
Teaching & Learning: The latest and greatest discoveries from   changemakers who are paving the way for the future of education.
EdTech Tools:

 Tips and tricks from both the ShapingEDU Community and the developers of new EdTech tools.

Education 2030: What will learning look like less than 10 years from now? We stargazed into the EdTech universe to explore the possibilities and best prepare for 2030 and beyond.
On the third day, we took what we learned and develop an education system for Mars from scratch. Once we mapped out our ideal education system, we figured out how we can get Earth's education systems a bit closer to that utopia while creating a tangible output that will be shared with the ShapingEDU Community and beyond.
---
DISCLAIMER: No astronauts or space creatures were manifested into existence or harmed in the creation of the illustrations and workshops associated with this event. Although the ShapingEDU Community is filled with astronomy-loving sci-fi nerds who wish they could attend a space-themed summer camp (whether they had the privilege of attending as kids or not), none of us have been through astronaut training – that we know of! – nor is ShapingEDU associated with the stellar groups within ASU that actually do work with NASA. 
While we don't anticipate that our workshops will result in the creation of an actual education system for another planet – you never know! We do dream big and love to explore the art of the possible. We are a community of dreamers, doers and drivers, and we aspire to make this planet as conducive to the success of all lifelong learners as possible. 
As a wise humanoid named Klaatu once said, "the universe grows smaller every day." Live long and proper, folks. May the force be with you, and nanu nanu.