2022 Global Virtual Summer Camp: Embracing suspended disbelief to design a utopian education system
Stephanie King
— Jul 19, 2022
Exploring the unknown, learning new skills, making new connections, stargazing – the words "summer camp" can recall feelings of nostalgia and simpler times. From June 21-23, more than 250 education changemakers had the opportunity to create new camp memories at ASU ShapingEDU's Global Virtual Summer Camp (GVSC), a three-day, space-themed online retreat to share best practices, explore EdTech tools, surface challenges and discuss opportunities to empower lifelong learners to thrive. 
"Nothing says summer like camp," said Stephanie Pierotti, Director, ASU ShapingEDU. "Our experimental fusion of hands-on learning, storytelling, tech hacks and shenanigans are all meant to allow our Community to listen and learn, then engage in an exercise of suspended disbelief." 
The goal for this year's virtual experience was to bring the global ShapingEDU community together with a mission to create a utopian education system. "Creating a theoretical framework of needing an education system for Mars enables us to remove perceived barriers, then dream beyond them to explore the art of the possible," said Pierotti. It's how we get from 'yes, but' to 'yes, and'. The specific planet isn't important – it's about creating an aspirational model that we can use as a north star here on Earth, and having some fun along the way."
Preparing for tomorrow's learners, today
At GVSC, participants were invited to navigate the edtech universe to discover the possibilities and best prepare for 2030, the year by which UNESCO hopes to achieve its Sustainability Development Goal in Education. 
A diverse group of experts in education and technology shared their advice for building the future: 
Explore alternative teaching models. Brent Maddin joined summer camp to share the team-based educator model that he's exploring with the Mary Lou Teachers College. "Solving complex problems in an ever-changing world turns out to be way easier when you're not by yourself," said Maddin. "If the pandemic has taught us anything, it's that people want more flexibility in their roles and they don't want to be alone."
Foster inclusivity and lift up learners. Space Prize Executive Director Kim Macharia shared insights into  how she is advocating for more young women of color to pursue a space-related career. "Despite 60 years of space exploration, women are underrepresented in the Space industry. We're not seeing the same level of engagement when it comes to women choosing to enter space," said Macharia. "We want to help young women better understand the ways by which they can leverage all the wonderful things that space gives us, to help us here on Earth."
Consider future communication needs. Robots & Pencil's DJ Moody and Peter Wallis shared advice on the future of communication, and stressed the importance of every participant having value, creating structures that capitalize the chaos and fostering communication that encourages everyone to participate. "The goal is for everyone to be able to bring the fullness of humanity into the system," said Wallis.

Learn valuable lessons from the pandemic. Co-hosts of the Silver Lining for Learning webinar series – which includes professors from ASU, Harvard, Kansas and Australia – shared lessons learned over the past two years from their storytelling series. "Every episode that we have all of us come out deeply impressed by the passion, vision, persistent purpose and commitment that our guests show," said Dr. Punya Mishra, co-host of Silver Lining for Learning and Associate Dean of Scholarship and Innovation and professor for ASU's Mary Lou Fulton Teachers College. "Each one has found a space where they can play and question assumptions."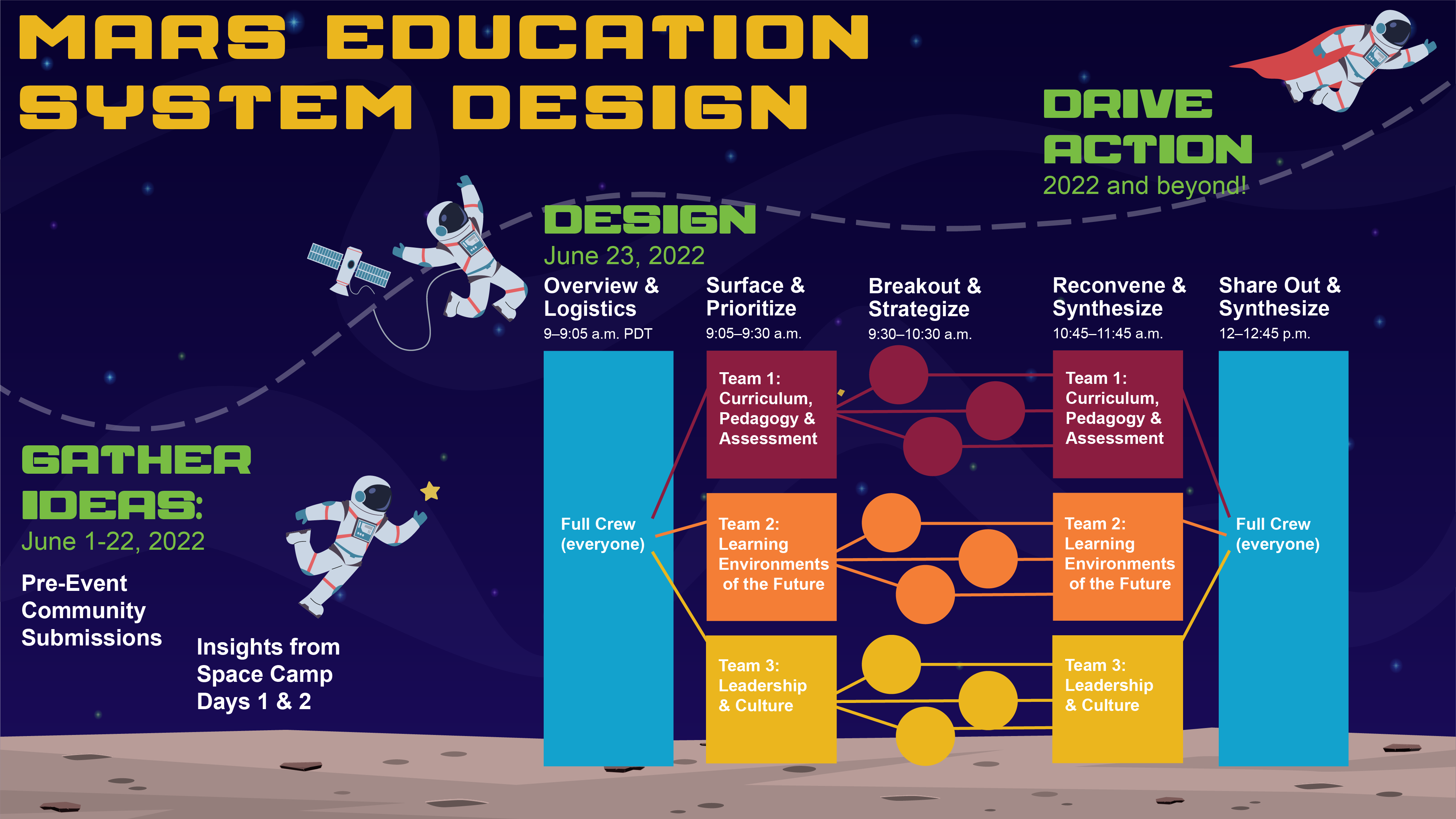 Designing a utopian education system
Fueled by newfound knowledge, GVSC attendees were asked to design a futuristic, technology-fueled educational system for Mars in a hands-on team workshop.
To build an education system from scratch, participants divided into three teams with focus areas that were essential to brainstorm when it comes to designing a new education system:
Curriculum, pedagogy and assessment
This team felt the need to redefine antiquated terms like "curriculum" and "pedagogy"; instead, it explored more fitting terms for Mars, including "Learning Pathways" and "Field Guides", respectively. Learning Pathways will provide more flexibility and adaptability with regards to what learners learn, moving toward an interactive, multigenerational, collaborative teaching and learning approach that involves personalizing and adapting curriculum to rapidly changing situations in the real world.
Learning environments of the future
Technology is going to be at the forefront of the Mars education system. It must support learners and their need for nature, socialization, exploration, sustainability and creation. Learning experiences will be a combination of facilitators and AI, which will blur asynchronous and synchronous learning.
Leadership and culture
The team's goal was to thoughtfully consider and purposefully design an intergenerational culture of shared knowledge, values and responsibility for lifelong learning where everything is infused with whole life learning for everyone. This model includes people first, engaging mechanisms and cultural competency and awareness.
Moon rocks: souvenirs and takeaways from camp
ShapingEDU is committing to concrete action to bring about better futures for living and learning. In addition to the open letter that outlines this new education system for Mars, campers were invited to contribute to a Flash Fiction eBook after Innovator in Residence Dr. Ruben Puentedura's opening keynote on science fiction as metaphor, and sign a changemaking pledge to commit to the efforts, the processes and the exploration of how to improve education by 2030.
Other top moments and memories from Global Virtual Summer Camp include:
Watching a special video transmission from former NASA astronaut and Arizona Senator Mark Kelly (pictured above) sharing motivating words for the ShapingEDU Community: "When it comes to improving access to education and STEM, we need to keep thinking big and reach for the stars."

Observing Alece Birnbach's graphic facilitation from keynotes and sessions (see all summaries on the

ShapingEDU's LinkedIn page

)

Hearing ASU graduate student John Janezic's pizza analogy: the government is the crust, education is the sauce and people are the cheese!
Watch all session recordings on ShapingEDU's Global Virtual Summer Camp 2022 Playlist.
Global Virtual Summer Campers didn't make bookmarks at the leather shop or buy snacks at the canteen, but they were able to reconnect, play and expand their thinking to create the change they envision for the Red Planet…here on earth. As student Bailey Shaw of ASU's Mary Lou Fulton Teachers College said: "There's nothing we cannot do on Earth that we've discussed for Mars."
This is the second time ShapingEDU has hosted educators, students, researchers, storytellers, edtech creators and education futurists for a virtually immersive camp experience; the Community first convened at Learning(Hu)Man in July 2020. Always trying to introduce its community to new tools and experiences, GVSC was the first ShapingEDU event hosted using the Zoom Events platform.