Changemakers share how they are advancing solutions at the Arizona Digital Inclusion Celebration Summit
Stephanie King
— Oct 08, 2022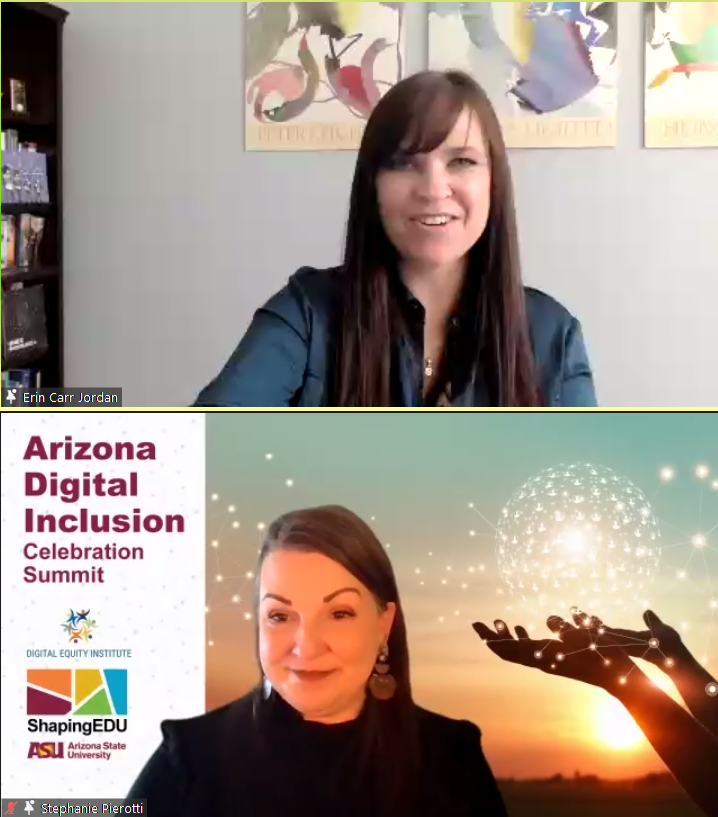 As you read this blog post from your mobile phone, desktop or tablet, consider that there are 19 million Americans, including as many as 1.2 million Arizonans, without internet access. While these statistics feel heavy, it's critical to know that local and national changemakers are working together to change them rapidly.
Nearly 400 registrants learned more about what Arizonans are doing to advance digital equity solutions at the Arizona Digital Inclusion Celebration Summit, held virtually on Monday, October 3. Co-created by ASU ShapingEDU and the Digital Equity Institute, the Summit kicked off Digital Inclusion Week by inviting more than 25 experts to talk about how to leverage technology to connect the underconnected, and celebrate how Arizona partners are working collectively and collaboratively to close the digital divide and advance sustainable digital equity for all Arizonans.
Changemakers spanned nine timely topic areas: 
State of the State 

State of the United States

Broadband

Affordable Connectivity Program 

Digital Navigators

Digital Literacy

Telehealth

STEM Education and Workforce

Community Engagement
"It was an honor for ShapingEDU to co-host this event, as we remain dedicated to creating new ways for lifelong learners to thrive in the digital age," said Stephanie Pierotti, Director, ASU ShapingEDU and emcee for the event. "Without reliable and affordable internet access, that simply cannot happen." ShapingEDU is a global community of over 4,000 education changemakers; one of ShapingEDU's 5 Calls to Action is to empower builders of digital fluency and digital inclusion.
Putting humans at the center of digital equity
Dr. Erin Carr-Jordan, Managing Director of the Digital Equity Institute, helped begin the Summit program by sharing more about the collaborative way in which the Institute works, making sure that everyone has their voice included in the design and planning of digital equity ecosystems. "We build opportunities for greater digital inclusion through deep collaboration so that the community is meaningfully represented and part of the decision-making," said Dr. Carr-Jordan. "This ensures that the needs of the community are dictated and determined by them, and that whatever we build is used because it's useful and really does add value to the lives of the community as perceived by them."
And while Dr. Lev Gonick, a digital inclusion champion of more than 20 years, agrees, he explained that it isn't always easy to make change – trust is key. "Change happens at the speed of trust," said Gonick. "It's really hard when we use different language, we have different mindsets, we have different needs, we have different starting points in our lives, and our priorities are oftentimes not fully aligned. It's really hard to bring together and build a coalition of the willing to find a way to build trust." He explained that this is exactly why events like the Summit are important: to allow a space to share the success stories and encourage others to do the work and tell their stories, as well.
An important story heard at the Summit was that of Governor Stephen Roe Lewis of the Gila River Indian community. He explained that there is an immediate need to get fiber optic cable access to all of the reservation's 300 households – during the pandemic, only 30% of the community had internet access. "As tribes, it's important that we use the funding that's available to make the right investments, but also to ensure that our needs and our voices are here as these decisions are made affecting our futures. It'll be essential that we remain engaged at the table and committed to take full advantage of the opportunities," said Governor Lewis.
Paving the way for change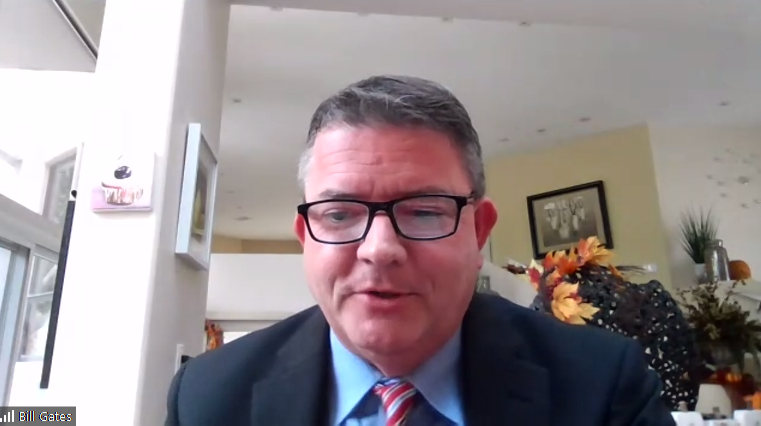 The Digital Equity Institute is leading Arizona's digital equity efforts, including a focus on broadband. Just days prior, it was announced that the Maricopa County Board of Supervisors recently voted unanimously to provide ASU Enterprise Technology, the Digital Equity Institute and Sun Corridor Network with $34.6 million through 2026 to advance broadband, community support, equipment and training across Maricopa County, which includes the metro Phoenix area. Chairman Bill Gates joined the Summit to speak more about this major funding announcement, the largest university-led digital equity initiative in the United States. 
"I believe we are in an unprecedented time, where we can make large-scale improvements to digital inclusion, which will have an impact not only on quality of life, but on economic development which will be very significant for decades to come," said Gates.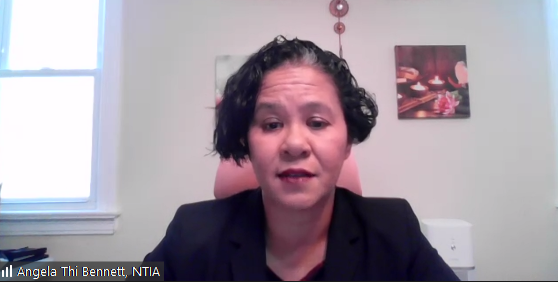 On a national level, funding is also being made available to narrow the digital divide. Angela Thi Bennett, Digital Equity Director of the U.S. Department of Commerce, National Telecommunications and Information Administration (NTIA), spoke about the importance of having internet access for all American families. "When our learners and their families and caregivers do not have access to a basic necessity, we send a very strong message: you are not worthy," said Thi Bennett. "However, there's hope. And when there's hope, anything is possible. You just have to believe and have a will. In America, at this point of time in history, the stars have aligned and we believe that we have a will…and there is funding."
Moving forward to narrow the divide
The theme of the National Digital Inclusion Alliance (NDIA)'s Digital Inclusion Week for 2022 was "Turning Our Moment into Movement." Arizona is seizing the moment by working together – nonprofits, corporations and everyone in between – to maximize the funding available to maximize the impact for Arizona and beyond. Angela Siefer, Executive Director of the NDIA, informed attendees of some of the many ways that they could get more involved in the organization's work. 
During the event, participants were able to learn about the many digital inclusion efforts in which Arizonans are helping others to help their communities. Some highlights included:
Dr. Jeremy Babendure, Executive Director of the SciTech Institute, was joined by student Sarah Ryli to discuss the organization's

Chief Science Officer

(CSO) program, which advocates for student voice and innovation in their communities.

Dr. Priya Radhakrishnan of HonorHealth shared findings from her study:

Exploring the role of telehealth in providing equitable healthcare to the vulnerable patient population during COVID-19

. "Telemedicine is a really powerful tool to improve access to care, particularly to our underserved populations and Medicaid patients," said Dr. Radhakrishnan.

ASU's Gigi Speaks and Alexa Tarvid shared the work of the university's

Experience Center

and their partnership with the Digital Equity Institute to provide 24/7 support to assist participants receiving broadband access and serving as digital navigators to help participants get access to affordable internet and navigate online safely and meaningfully.

AT&T has spent $625 million in upgrading their networks in Arizona to get them "where they need to be," said Toni Broberg, AT&T State President of Arizona & New Mexico.

Brian Rose of Learning.com shared four stages of the digital divide: access and connectivity, digital readiness, digital use and representation. "Representation really is a recognition of self in the learning content and in the learning experience and the tech industry and the workforce opps that come along with that," said Rose. "This is a key to the adoption and sustainment of this critical initiative. When learners start to see themselves in the learning content in those experiences, the opportunities that they provide, they engage and this is what we're excited to do. The digital divide cannot be closed until the content reflects a full spectrum of experiences."
At the end of the Summit, attendees were encouraged to take the pledge and say "yes" to becoming a Digital Inclusion Champion, joining the great work that was shared by presenters throughout the virtual event.
---
This summary is only a glimpse at the success stories that were shared at the Arizona Digital Inclusion Celebration Summit. We invite you to: